"Liberal Arts" are designed so students may acquire a vast knowledge and education and the ability to think comprehensively.
"Fundamental Scientific Education" are required as basic training in order to take professional education courses.
"Professional Education Courses" are in place to foster an advanced technical knowledge in students. They are operated under the administration of each department, however students may earn up to 8 credits in courses outside their department.
Lectures are conducted once a week for 90 minutes, 15 times per semester and are worth 2 credits.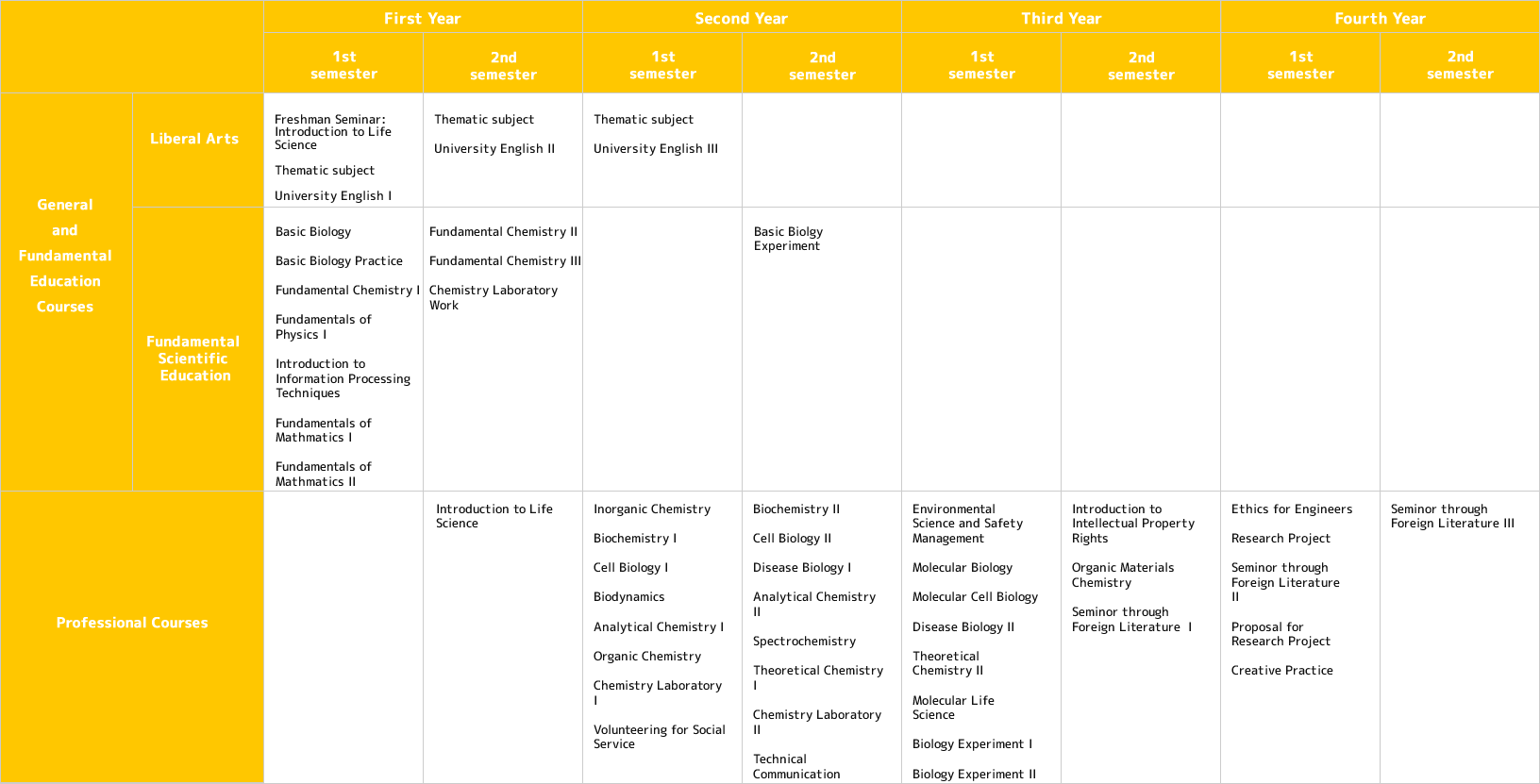 Curriculum Features
In the Life Science Course students study living phenomena on a multitude of levels ranging from molecular design to cells and human body function to disease. To this end, students engage in unique methods of study; such as organic synthesis and chemical analysis, biochemical and molecular biological analysis, imaging analysis using cultured cells, and the development of disease diagnosis and treatment methods. After learning the fundamentals in these fields of chemistry and biology, students who enter the Life Science Course then branch off into various fields of research.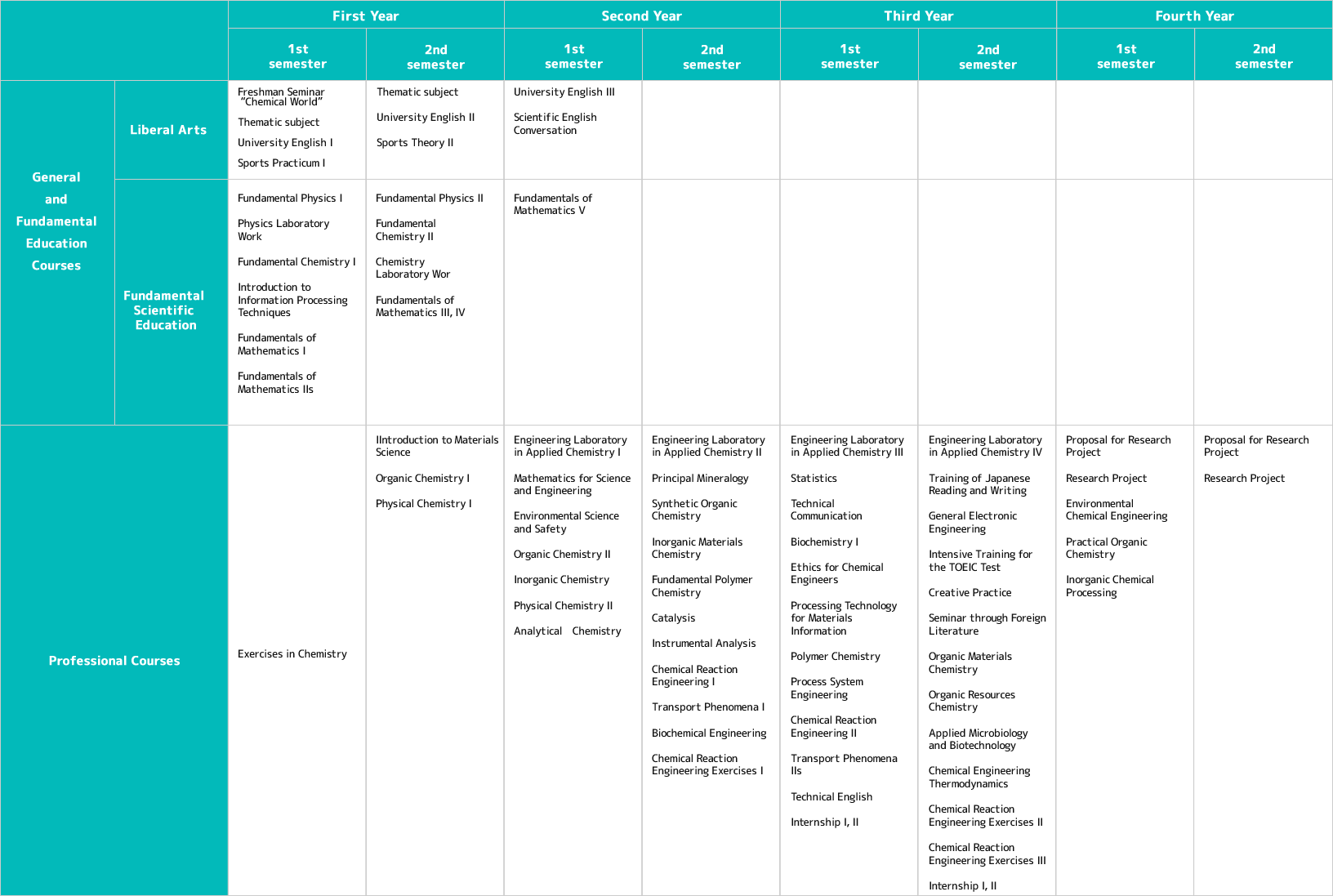 Curriculum Features
In the first and second years students take classes with an emphasis on the fundamentals required in scientific fields. In addition to the Fundamental Education Courses, students are trained in a fundamental knowledge of organic matter, inorganic materials, physical chemistry, chemical engineering, etc. As students proceed through the years, they take progressively more specialized classes, and in the fourth year students undertake a graduation research project. Through these curricula we cultivate the next generation of engineers and academics who possess the fundamentals of material science and highly specialized skills.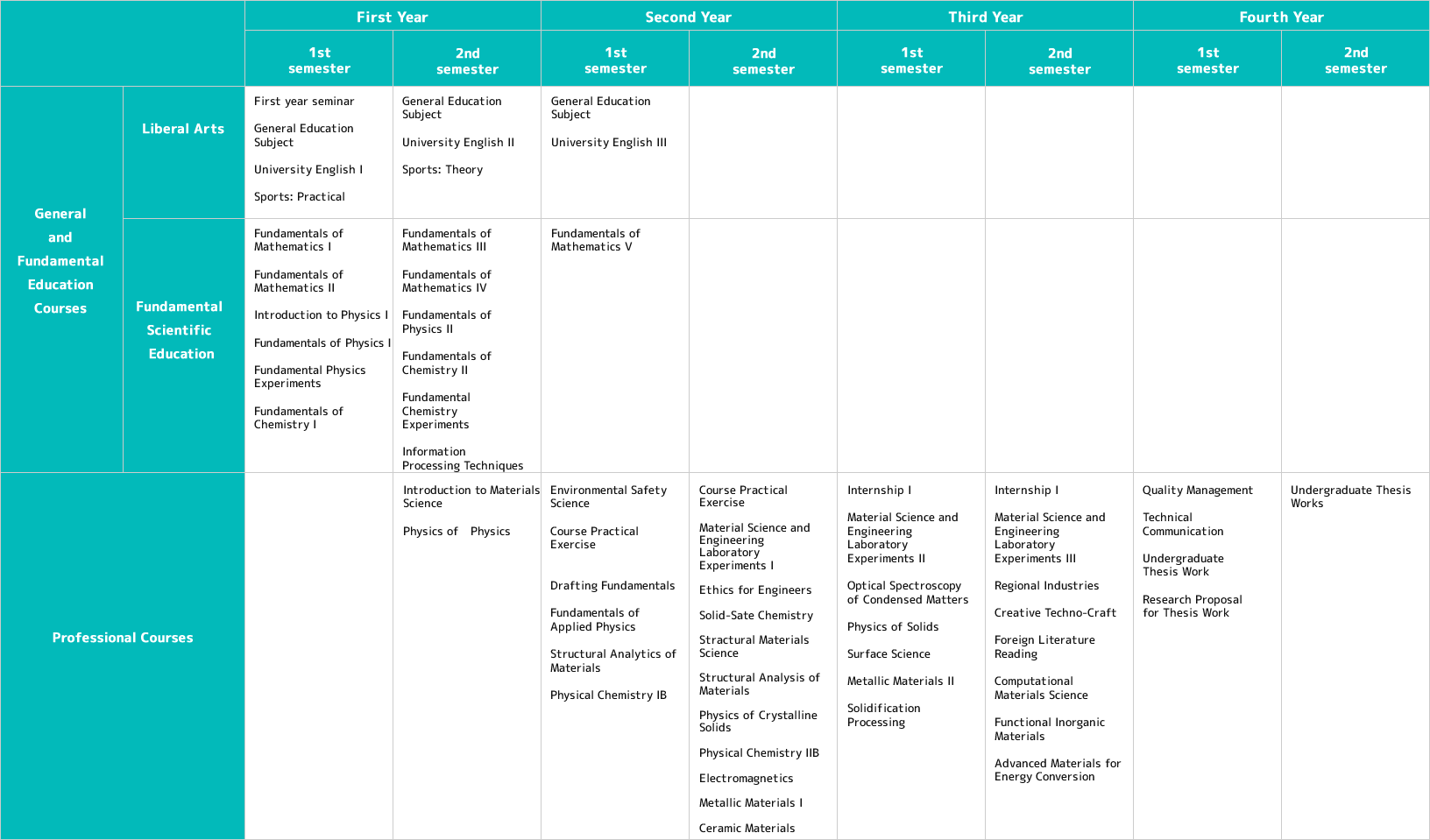 Curriculum Features
The Materials Science and Engineering Course provides an educational program that leads each student to deepen their understanding, step-by-step. Students first learn about the atomic structures, electron states, and other nano-scale phenomena that give to a material its particular nature. Using these fundamental lectures as a base, students then advance to the study of physical and chemical properties of functional materials that are used on a macro-scale.
The study of nano-scale phenomena, for example, is conducted in classes such as Solid-state Physics, Solid-state Chemistry and Quantum Mechanics. Using these courses as a basis, instruction on topics in materials physics is given in classes such as Elasticity Mechanics and Microstructure Structure of Materials, through which students gain a knowledge of the physical and chemical properties of materials.
After completing the fundamental classes, students then undertake further, specialized classes that are directly linked with advanced scientific fields, such as Metals, Ceramics, and Energy Conversion Materials Science. Through this series of classes, ranging from a description of fundamental concepts to applications, the department cultivates professionals that will underpin the next generation of scientists and engineers in Japan.
The Materials Science and Engineering curriculum is a JABEE recognized educational program. JABEE refers to the institution and system for evaluating and ensuring the quality of engineering educational programs implemented in universities, junior colleges, and technical high schools.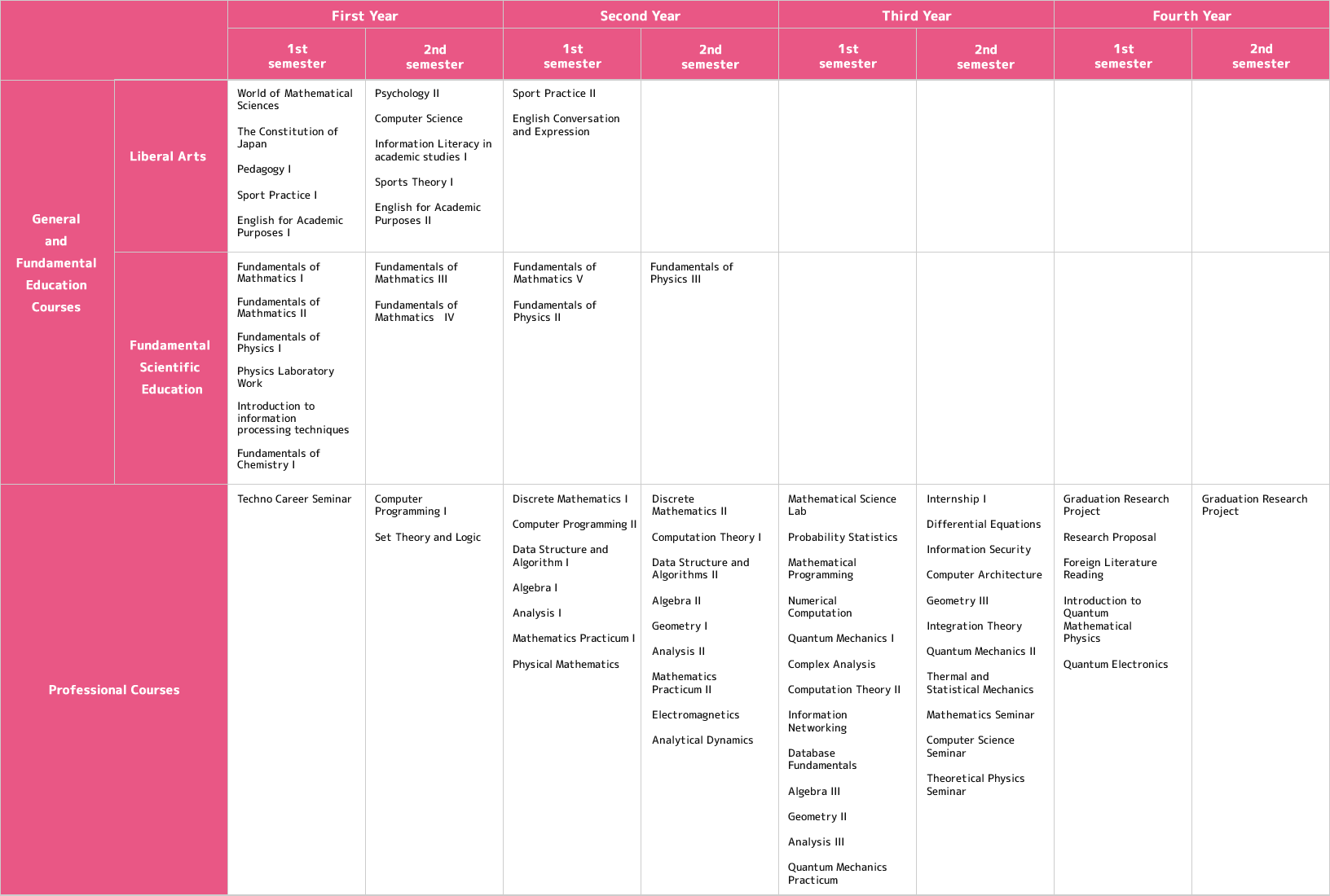 Curriculum Features
In the Mathematical Science Course, through the study of discrete system mathematics, continuous system mathematics, theoretical physics, etc. we aim to cultivate human resources who have the ability to consider and think about issues from a mathematical and physical standpoint, and to have the ability to take the ideas born from that thought process and tie it to research and invention.
In the first year students learn the fundamentals necessary to study the advanced courses in each field of mathematical science. These academic fields deepen the understanding of the overall role played by science and engineering. Also, students learn the fundamental techniques of information processing.
In the second year, students learn the basic concepts of each area of mathematical science, and learn to adopt logical thinking and speaking habits. In practical subjects based on an interactive education style, students learn explanation, research and writing techniques.
In the third year, students further their expertise in the various fields of mathematical science through the study of methods and logic that deal with mathematical structures precisely, the study of quantum theory mechanics, the analysis and interpretation of material structures and physical phenomenon models (physical models), and the theoretical basics of information and communication technology.
In the fourth year students mainly focus on studying the highly specialized subjects in their research proposals and graduation research projects while becoming proficient in devising their own methods and concepts in each field of study, cultivating their ability to apply the expert knowledge they have attained thus far.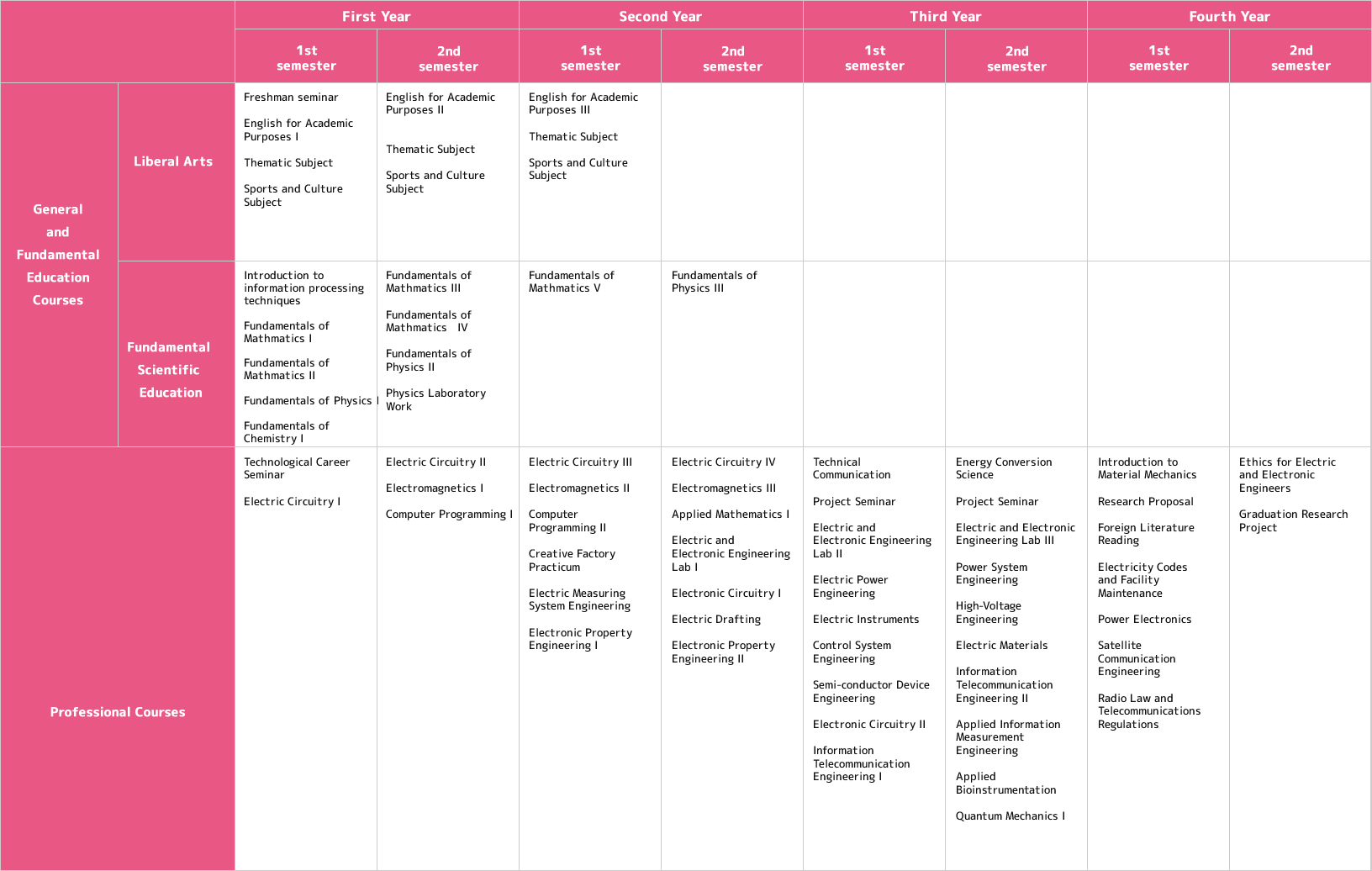 Curriculum Features
Using Electronics and Information Networks to Create a Safe and Secure Society.
In the Electrical and Electronic Engineering Course, through the study of electric energy, optical and electronic devices, information and communication technology and control system technology students obtain an advanced capacity for technological development and conduct educational research regarding issues facing local communities. Students learn the fundamental techniques that support electric, electronic, information and communication engineering with a central focus on electric power engineering, semi conductor-device engineering, measurement electronics, and electrical machinery.
Curriculum Features
Upon entering the university in their first year, as their introductory education students take the First Year Seminar, and numbers of mathematics classes as the fundamentals of computer science, in order to lead a fulfilling academic lifestyle. International language classes, which are essential in order to take an active role in the global society, and a variety of general education courses to cultivate a well-rounded education, are also offered.
From the second year, in order for students to obtain the necessary expertise in various areas of human-centered computing, in addition to various hardware and software related specialized subjects, a variety of classes that comprehend human perception and cognition and apply that to products and services are also offered.
Furthermore, in this course there are programming practicums and labs to design and build autonomous robots amongst a wide-range of 15 different subjects that use computers which cultivate the hands-on skills necessary for system development.
In the latter half of the third year students are assigned to research labs, in the process of developing their presentation problem-solving abilities through reading foreign literature, research proposals and undertaking graduation thesis subject research, students aim to attain a high level of creativity in their research development. Motivated students present their research students at academic conferences both within Japan and abroad, and students may obtain further technical skills through communication with a variety of academics at our graduate school.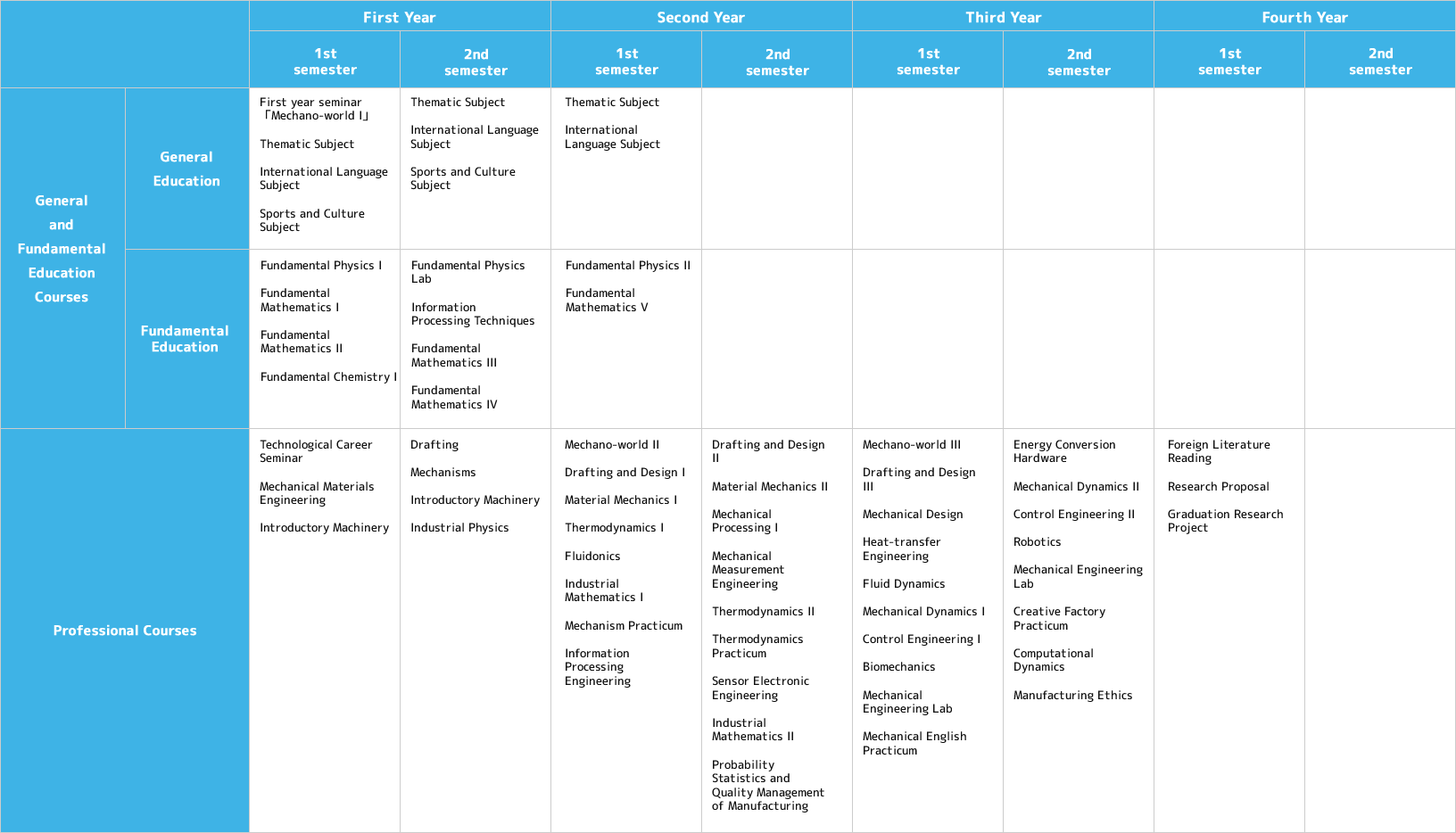 Curriculum Features
In the first year, in addition to the general and fundamental courses (general education, mathematics, physics, English), students learn the fundamentals of mechanical engineering and proper Japanese Writing in the Freshman Seminar "Mechano-World I". In the year-long course "Introduction to Engineering Design and Manufacturing " students cultivate their innovative mind by hands-on experience related to mechanical engineering subjects for further study. Additionally, in the "Techno-Career Seminar", students listen to lectures given by professionals active in society and learn what kind of human resources requires in today's society.
In the second year, in addition to the core subjects such as "Mechanics and Strength of Materials", "Thermodynamics", and "Fluidics", students acquire deepen knowledge from development courses, including nanotechnology, medical engineering, etc. in "Mechano-World II". In "Mechanical Design and Drawing" and "Mechanical Engineering Practice" students learn the background knowledge required as a mechanical engineer.
In the third year, through classes like "Heat Transfer" and "Fluid Mechanics" students obtain knowledge regarding energy issues, and the knowledge necessary in society while studying "Mechanical Dynamics" and "Control Engineering", which are fundamental to "Biomechanics" and "Robotics". Also, in the "Creative Creative Techno-Craft" students work with their peers to create and hone their ingenuity, and strengthen their motivation to generate new mechanics in "Mechano-World III" where they are exposed to frontier research.
In the fourth year, students gain an understanding of the most recent international research being conducted through "Technical Reports and Seminar on Mechanical Engineering", while learning report writing and presentation skills. In their "Graduation Research Project" students cultivate the ability to proceed with research and development, discover problems and solve them, while improving their presentation skills.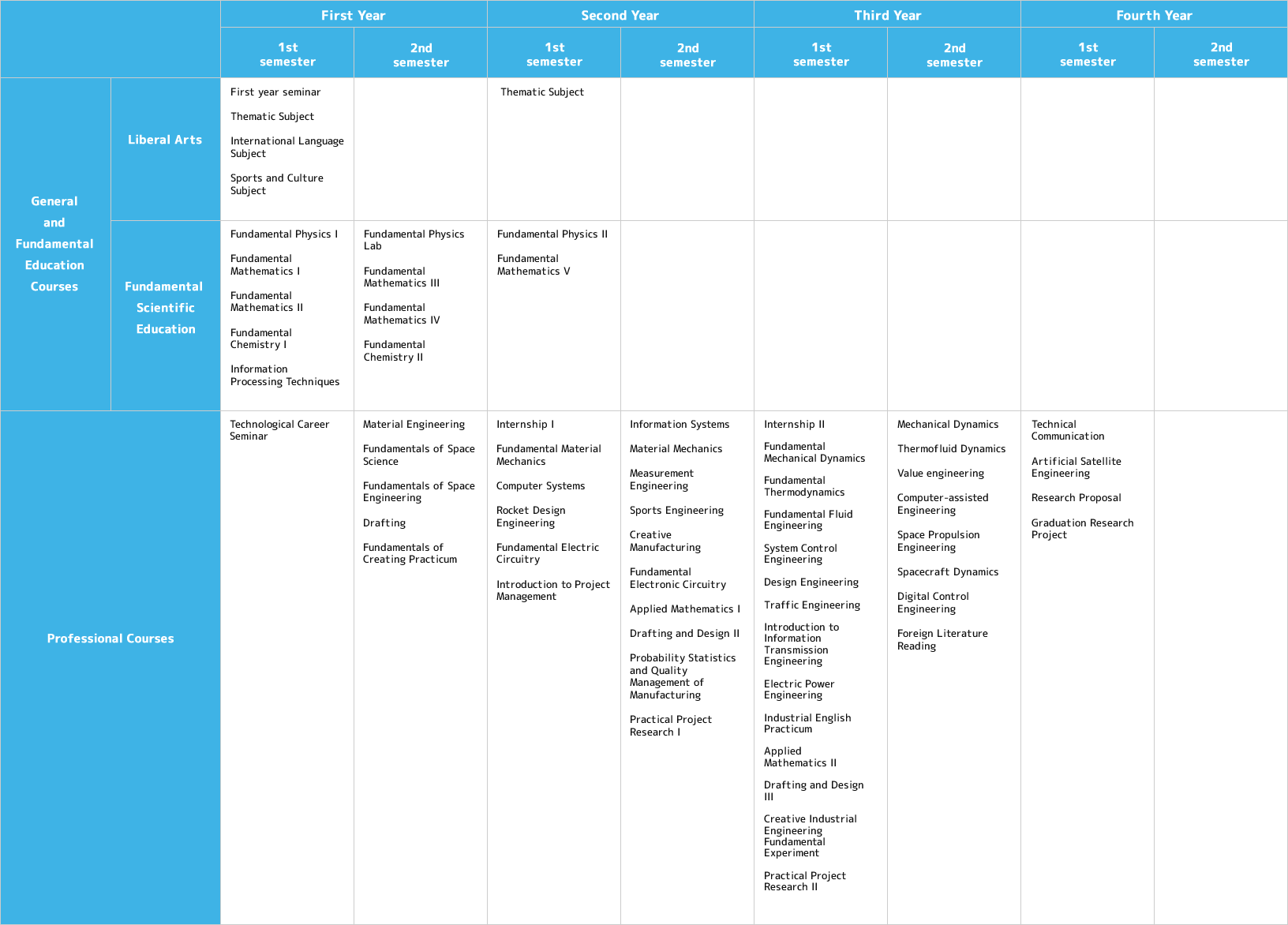 Curriculum Features
Students acquire a fundamental knowledge of mechanical engineering, electric and electronic engineering and information engineering in this wide-ranging educational curriculum
Space Engineering lecture subjects allow students an opportunity to utilize their fundamental engineering knowledge and acquire the technical skills to design rockets and satellites
The curriculum implements the "Practical Art of Manufacturing Education via the Switchback Method"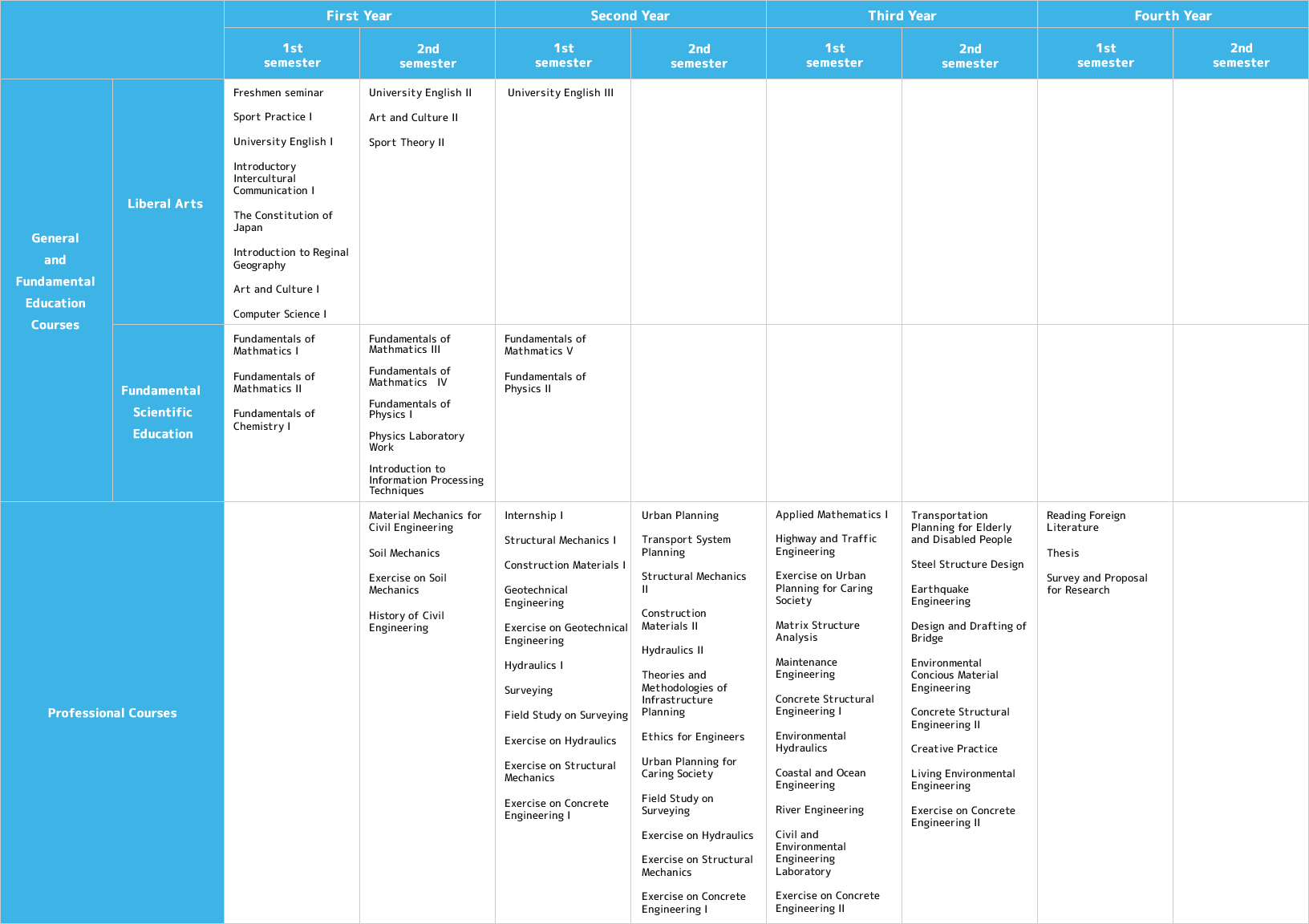 Curriculum Features
In the Civil and Environmental Engineering Course, students acquire a solid fundamental knowledge of subjects which comprise the basis of civil engineering consisting of structural mechacics, hydraulics, soil mechanics, urban and traffic engineering, concrete engineering, etc. and gain knowledge to maintain a civil infrastructure that possesses disaster prevention and mitigation functions and is considerate of the environment. In addition we aim to cultivate human resources who are able to illustrate their superior problem-solving abilities when dealing with issues such as maintaining urban infrastructure that allows the elderly to live comfortably and the construction of safe, sustainable infrastructure in cold and heavy snowfall regions.